Yesterday I had the pleasure of taking two couples on a 24-hour sail on Sailfish, our Leopard 40 sailing catamaran from the Harborage Yacht Club and Marina https://www.harborageyachtclub.com/
We sailed down the St. Lucie River past many large beautiful waterfront homes in the Rio and Sewall Point neighborhoods. Fortunately, we had enough wind to shut the motors off and cruise quietly and peacefully under sail power. It was mid tide so we easily cleared the 65-foot bridge from Steele point to Sewall Point with a foot and a half to spare, although it always looks like the top of our mast will hit the concrete bridge.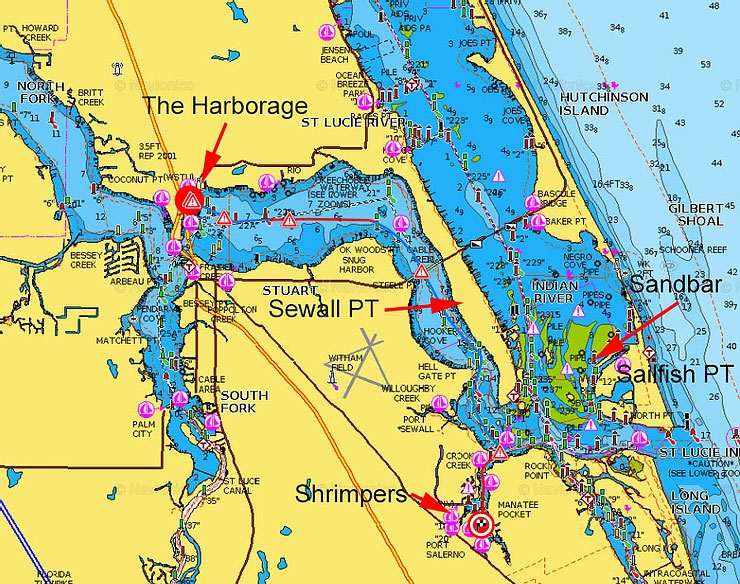 We continued down river past Hooker Cove and Hell Gate Point to the end of Sewall Point then along a newly formed small sandbar dotted with mangroves and a few small palm trees. We turned into the Manatee Pocket which is lined with impressive yachts and fishing vessels including an 80-foot Viking Sportfish.
We tied up at Shrimpers and had a delicious lunch. A Little Blue Heron that really wasn't very little, kept an eying our food. One of my guests has Ornithophobia and was not pleased but the food was great, and the waterfront view enjoyable.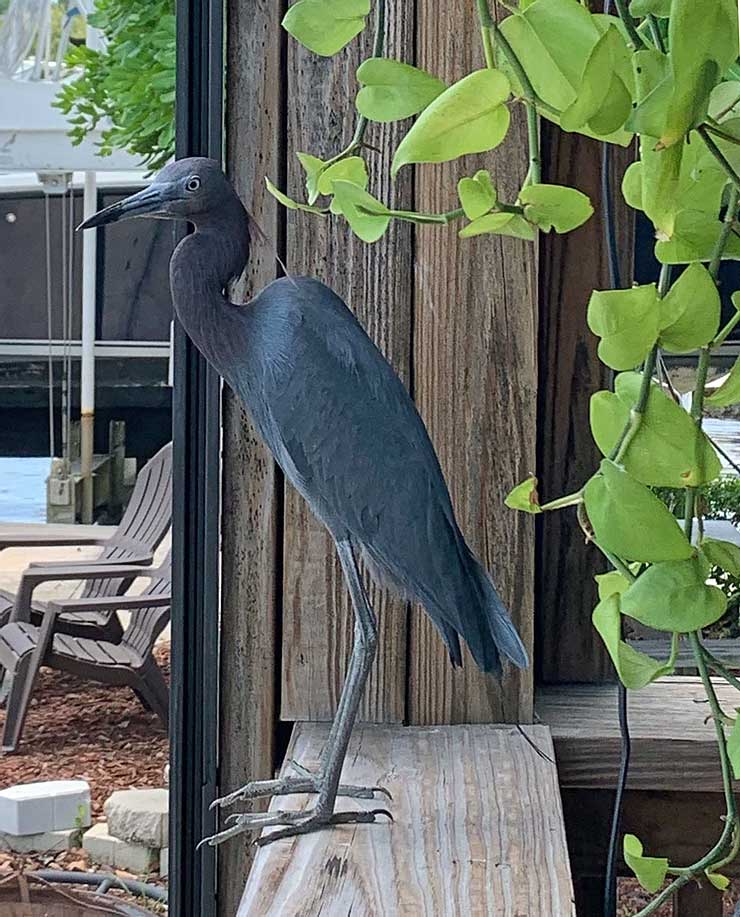 https://maps.roadtrippers.com/us/port-salerno-fl/points-of-interest/manatee-pocket-walk-at-historic-downtown-port-salerno
After lunch we motor sailed back to the river then continued past "The Crossroads" where the Indian River and the Intracoastal Waterway cross the St. Lucie River. We headed toward the inlet then turned on the west side of Sailfish Point where we sailed past the large waterfront and golf course homes and on to the Stuart Sandbar where we anchored for a refreshing swim. Unlike our visit on July 4th, there were less than a dozen boats there.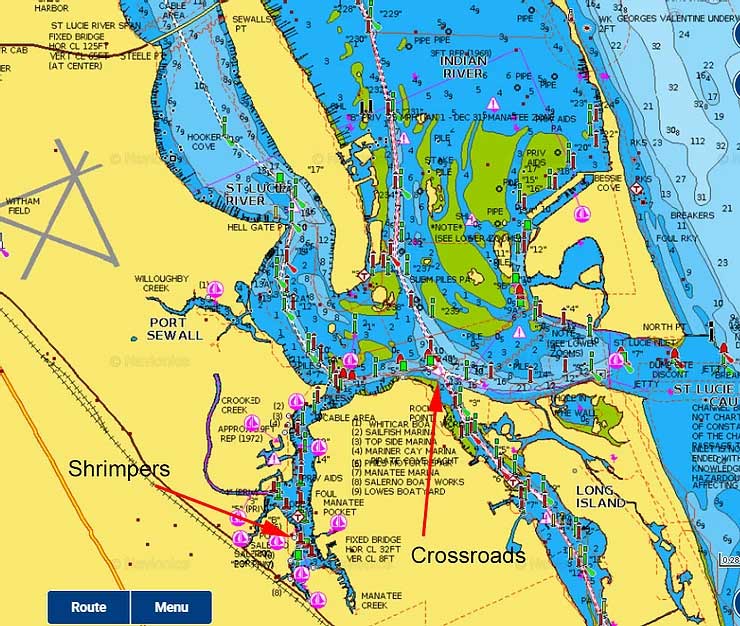 A word of caution, if you aren't familiar with this section of water, be sure of your navigation and boat handling skills. It can be quite intimidating if you don't have local knowledge of this area with its shifting shoals, strong currents, confusingly marked channels, lots of big boat traffic throwing wakes, and shallow spots to run aground on if you stray even a little bit off course. I've traversed this section scores of times, know it intimately, and am very comfortable traversing this area.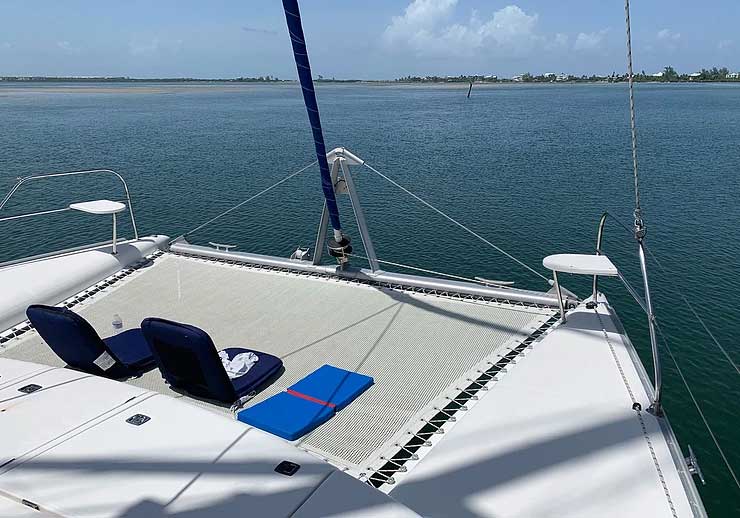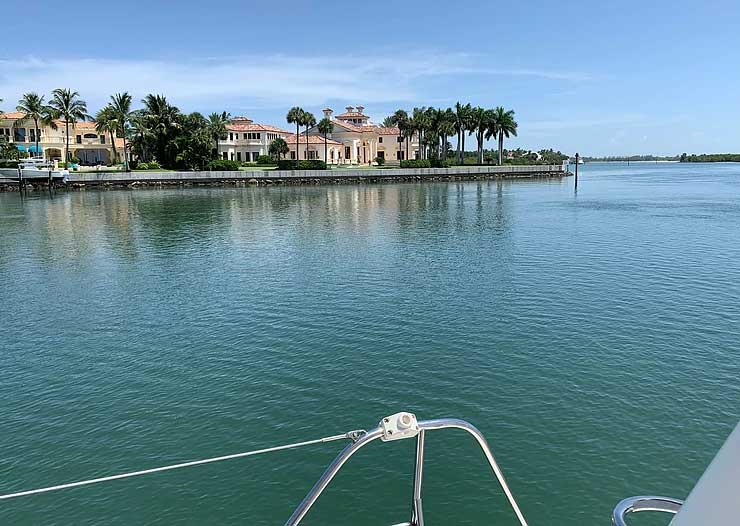 We raised anchor and sailed back to the crossroads then south down the ICW between the St. Lucie Inlet and Seabranch Preserve State Parks where we saw undisturbed native vegetation on the shorelines populated only by wading birds fishing. No houses spoiled the view. This must have been what the Native Americans and tearly European settlers saw when they lived here centuries ago.
https://www.floridastateparks.org/parks-and-trails/st-lucie-inlet-preserve-state-park
https://www.floridastateparks.org/parks-and-trails/seabranch-preserve-state-park
We reversed course and sailed north past the east side of Sewall Point to the A1A bridge from there to Hutchinson Island. The incoming tide cleared the water to a beautiful blue as we glided past two small uninhabited mangrove islands the locals call Boy Scout and Long Island. They are surrounded by flats populated by a few more wading birds and a couple of flats fishermen hoping to catch a late afternoon lunch.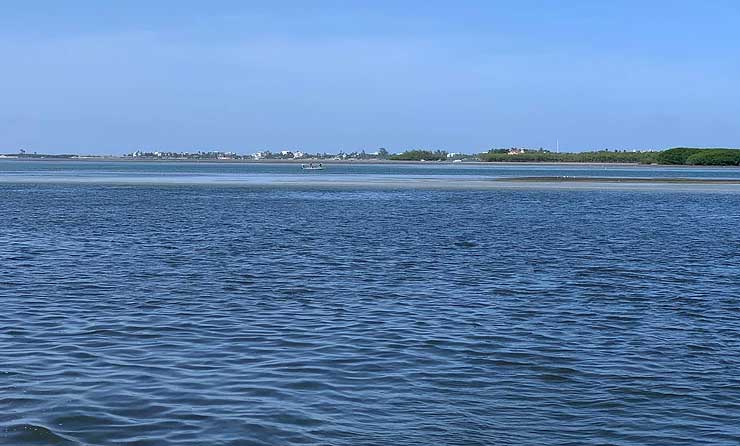 We had a long-distance view of the House of Refuge where stranded shipwrecked sailors sought rest, water, shelter and food and their vessels had come to grief on the reefs along the coast. https://houseofrefugefl.org/ If you get a chance to visit it from land or water, don't miss it. You will learn how far we've come since the days of the Spanish galleon's laden with treasure plied these waters centuries ago.
Next we retraced our wake back up the river, under two 65' bridges, through the open railroad and the low open on demand Roosevelt Bridge with an always courteous bridge tender. We then turned into Sunset Bay Marina http://www.sunsetbaymarinaandanchorage.com/ where we docked at Sailor's Return for a delightful dinner http://thesailorsreturn.com/
After dinner we sailed up the north fork of the St. Lucie River and anchored in site of Coconut Point in the light of a brilliant full moon rising which reflected on the ripples of the river. We hung out on the foredeck discussing what ever came to mind. I shut the generator off we could soon hear the soft puffs of dolphins surfacing and breathing not far from the boat. Eventually we turned in for a restful evening's sleep in airconditioned comfort.
We got up and had sausage, eggs, and English muffins for breakfast before sailing back down the river to the bridges and back to the Harborage just 24 hours from when we started. All agreed it had been an enjoyable time with good weather, enough wind to sail, and my guests left relaxed and refreshed with the time spent aboard Sailfish. Be sure to call 913-645-8206 and book your own custom charter with Stuart Sailing Charters for a couple of hours, a half or full day, 24 hours, a long weekend, or a weeklong trip to the Keys or the Abacos. You won't regret it.